Canada's main stock index climbed in April as higher oil prices benefited energy shares and new GDP data helped justify the Bank of Canada's continued interest rate pause. U.S. stock indices rose as well after strong earnings updates from major companies. According to data source FactSet, more than half of S&P 500 companies have reported results so far, with roughly 80% reporting earnings above expectations. In its latest World Economic Outlook, the IMF warns the global economy is heading for its weakest medium-term growth in more than three decades.
Canada's benchmark S&P/TSX Composite Index was 2.7% higher in April, as all 11 of the benchmark's underlying sectors were positive during the month. Telecommunication services, health care, and energy led the way with 6.5%, 5.5%, and 4.6% returns, respectively. Small-cap stocks, as measured by the S&P/TSX SmallCap Index, fell 1.3% for the month.
The U.S. dollar appreciated by 0.3% versus the loonie during the month, providing a slight boost to returns of foreign markets from a Canadian investor's standpoint. Note that all returns in this paragraph are in CAD terms. U.S.-based stocks, as measured by the S&P 500 Index, rose 1.7% in April. The benchmark's gain was led by telecommunication services, consumer staples, and energy, with respective returns of 3.8%, 3.7%, and 3.4%. Industrials and consumer discretionary were the only sectors in the red during April, falling 1.0% and 0.8%, respectively. International stocks, as measured by the FTSE Developed ex US Index, rose 2.6% during the month, while emerging markets dropped 1.0%.
The investment grade fixed income indices we follow were up in April. Canadian investment grade bonds, as measured by the FTSE Canada Universe Bond Index, increased by 1.0% during the month, while the key global investment grade bond benchmark eked out 0.4%. Global high-yield issues rose 0.9%.
Turning to commodities, the price of natural gas rose 8.8% during the month, while crude oil gained 1.5%. Silver and gold had a positive month, rising 3.5% and 1.5%, respectively, while copper declined 5.5%.
Inflation in Canada slowed to 4.3% year-over-year in March, with lower prices for fruits and vegetables driving the deceleration. The Canadian economy added 35,000 jobs in March, as the nation's unemployment rate held steady at 5.0%. The Bank of Canada expects inflation to return to its two-percentage-point target by the end of 2024, but the central bank signaled interest rates may need to remain high until then.
U.S. nonfarm payrolls increased by 236,000 in March, as the unemployment rate improved to 3.5%. The consumer price index rose 5.0% year-over-year in March. U.S. retail sales in March fell 1.0%. The market is anticipating a 25-bps rate hike at the Fed meeting in May, despite mounting calls from investors for the Fed to suspend rate hikes due to recession fears.
Chart of the Month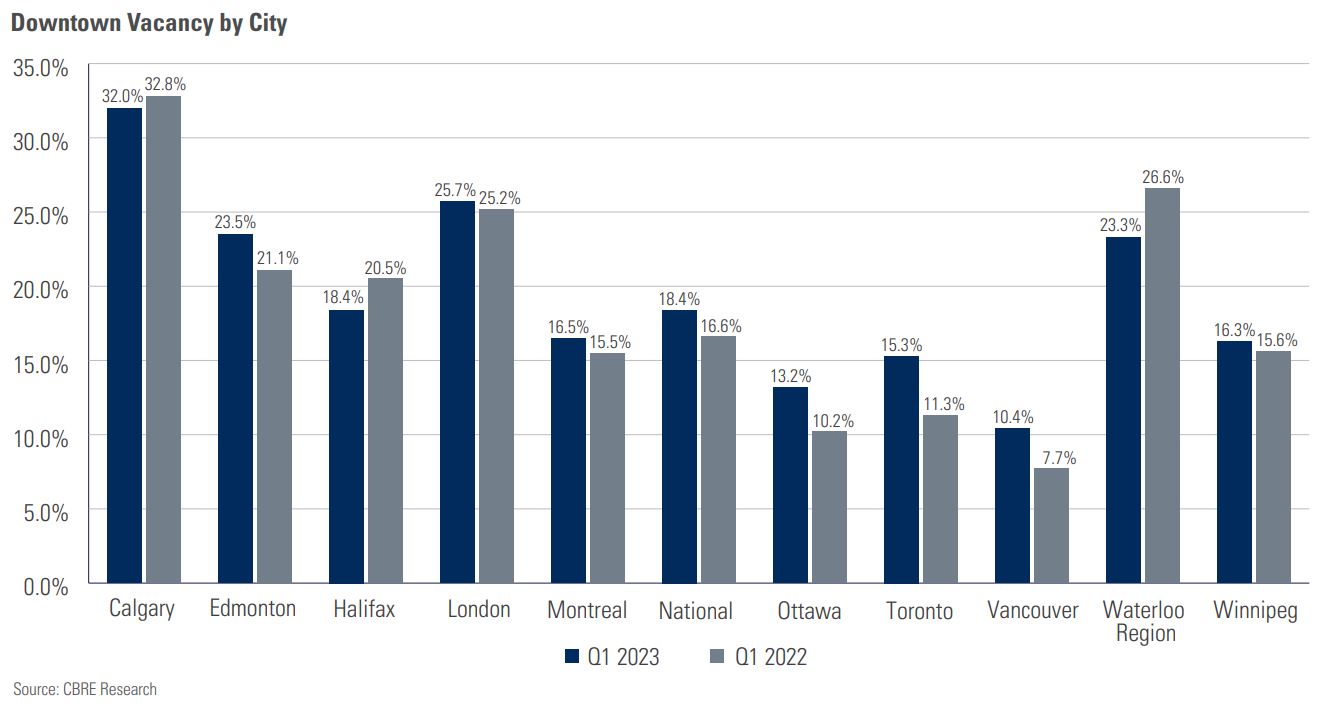 Many employers are encouraging employees to report to work more frequently, but many spaces in Canada's downtown areas remain vacant. According to a new study conducted by CBRE, Canada's downtown office vacancy rate through Q1 2023 stood at 18.4%, an increase of 1.8 percentage points year-over-year. The downtown office vacancy rate in Toronto hit 15.3%, the highest level in Canada's major office market since 1995. The downtown office vacancy rate in Vancouver has risen to 10.4%, the highest reading since 2004. Both Ottawa and Montreal witnessed their highest
downtown office vacancy rates in history, at 13.2% and 16.5%, respectively. Despite the vacancies, industries such as legal, finance, and real estate have seen a gradual return to and reopening of offices. CBRE, on the other hand, reported "muted activity" across most other industries, and that rightsizing, particularly in the IT industry, has contributed to a high rate of vacancies.