September was another volatile month for equity markets as the S&P 500 and Nasdaq Composite benchmarks ended Q3 lower (in local currency terms), marking the first time they posted losses for three consecutive quarters since the period around the 2008 Global Financial Crisis. The selloff was spurred by growing concerns that central bank policymakers may trigger a recession as they raise interest rates to fight decades-high inflation. Investors are focusing on earnings for relief, but the coming earnings season could very well be fraught with slashed forecasts and worsening fundamentals tied to persistent inflation, rising interest rates and slowing economic growth.
Canada's benchmark S&P/TSX Composite Index was 4.6% lower in September, resulting in a 2.2% decline for the benchmark in Q3. Seven of the benchmark's underlying sectors were negative during the quarter, led by telecommunication services and real estate, with losses of 8.7% and 7.3%, respectively. Small-cap stocks, as measured by the S&P/TSX Small Cap Index, slid by 3.0% for the quarter.
The U.S. dollar appreciated by 7.2% versus the loonie during Q3, providing a boost to returns of foreign markets from a Canadian investor's standpoint. Note that all returns in this paragraph are in CAD terms. U.S.-based stocks, as measured by the S&P 500 Index, declined 4.6% in September, but managed to finish the quarter 1.4% higher. The benchmark's quarterly gain was led by the consumer discretionary and energy sectors, with respective returns of 11.5% and 8.3%. International stocks, as measured by the FTSE Developed ex US Index, lost 3.8% during the quarter, while emerging markets lost 5.1%.
Canadian investment-grade bonds, as measured by the FTSE Canada Universe Bond Index, was up 0.5% during the quarter. The key global investment-grade bond benchmark and global high-yield issues were down 6.9% and 0.9%, respectively, during the quarter.
Turning to commodities, the price of a barrel of crude oil plummeted 24.8% in the third quarter, while natural gas surged 24.7%. Copper, silver and gold had a negative quarter, with respective losses of 8.1%, 6.1% and 8.0%.
Inflation in Canada rose 7.0% year-over-year in August, down from a 7.6% gain in July. This marked the second consecutive slowdown in year-over-year.
U.S. nonfarm payrolls increased by 315,000 in August, and the unemployment rate rose to 3.7%. The consumer price index eased for a second straight month to 8.3% in August, largely due to lower gasoline prices. U.S. retail sales gained 0.3% in August. The Federal Reserve raised its interest rate by 75 basis points in September for the third meeting in a row. The Fed's dot plot indicated that FOMC members expect either 1% or 1.25% worth of additional hikes for the rest of 2022.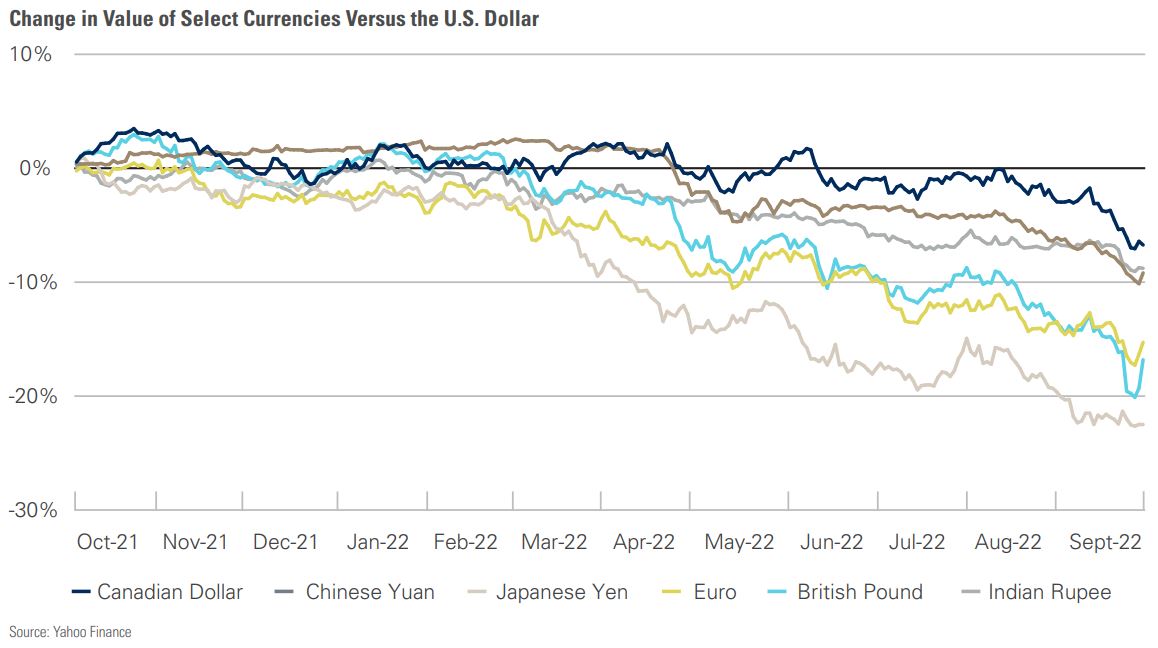 The U.S. dollar has surged versus the world's other major currencies so far this year, and this strength has been driven by a series of factors, including a flight-to-safety trade in the wake of geopolitical uncertainty, the relative strength of the U.S. economy, and the firmly hawkish stance of the Federal Reserve. A stronger greenback means U.S. consumers and businesses have access to cheaper imports. On a global level, however, the surging dollar presents many challenges. First, a strong dollar means higher prices on imports coming from the U.S. This could create upward pressure on inflation and ultimately lead to more aggressive stances on interest rates from central bankers around the world. Second, companies and governments carrying large amounts of USD-denominated debt are in a bit of a pickle, as the cost of that debt increases every time the USD strengthens. Finally, a strong dollar makes dollar-priced oil more costly for countries whose currencies are weakening against the greenback. Despite the recent plunge, the USD price of WTI crude oil is up 6% from a year ago, whereas the currencies of oil-importing countries have depreciated. If oil stays expensive in dollar terms and the dollar continues to strengthen, oil-importing countries will struggle to pay their energy bills. Many countries are experiencing the negative effects of the surging dollar in various ways, but the drivers behind the appreciation appear unlikely to reverse anytime soon. Investors, businesses, and policymakers may have to weather the strong dollar for longer.